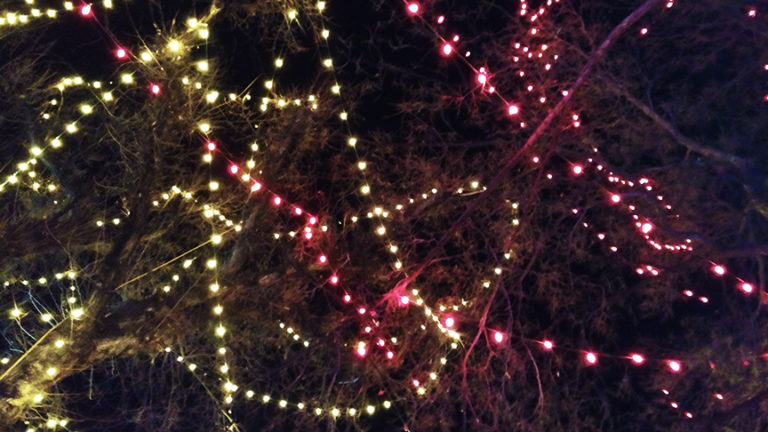 The Christmas Pyramid
It was our first Christmas at the beach. We were heading out to Rockaway in The Black Beauty, Himself at the wheel. I knew how to drive this car and sometimes he let me. We started my driving lessons that spring, one Saturday morning when we were coming back from a nursery with new rose bushes in the trunk. Himself took a left turn into Holy Cross Cemetery and stopped just inside the black iron gates. He got out of the vehicle on his side and told me to slide over. I didn't have time to ask questions because he sat in the passenger seat and told me to get going. I put my foot on the pedal and watched the enormous black hood of the Pontiac lead me down the green, green road. Through the tinted windshield, I saw a new world presided over by melancholy angels with stone wings. We spent about forty minutes cruising on the narrow streets that circled and cut between the fields of granite tombstones. And I learned to parallel park, in front of a mausoleum marked CUTRONE. I didn't expect to be so good at it and wanted to take a second lesson as soon as the first ended. All summer and fall, if I caught him in the right mood, he'd take me to practice in places farther from home. Like the parking lot at the Brooklyn Terminal Market and down Bedford Avenue on days when traffic was very light. By the time I was old enough to take driver's ed at St. Mike's next year, I knew I would ace the class.
With the whole family in the car, there was no way I was driving The Black Beauty today. I sat up front in the Death Seat; Mom was in the middle, between me and Himself. My sisters were crammed, coat-to-coat, in the back seat under a red-and-green plaid blanket; the car's heater was on the fritz. We usually went to my grandparents' house for the holidays, but they moved to Florida just after Thanksgiving so Uncle Tim, Dad's youngest brother, made the invite. He had a fancy job in the city and lived in Belle Harbor, a neighborhood that seemed like Beverly Hills compared to ours, in a stand-alone house with an outdoor shower and a built-in barbecue grill. We normally went there in the summers when my sisters and I could spend the day at the beach with our little cousins, fighting a losing battle with the Atlantic undertow and getting good and sunburned while the adults got good and tanked playing cards at the picnic table in the backyard.
So far, it had been a good holiday. Christmas was still the one morning we could count on Himself to be there when we woke up. We always put the tree up in the front porch, and that's where we opened our gifts. By the time I came downstairs in my corduroy slippers and bathrobe, Queenie, our tricolor collie, was playing with torn wrapping paper on the living room floor, and my youngest sisters, Dee Dee and Mary Ellen, were already showing off their presents—silver necklaces with enamel, heart-shaped pendants "given" by our other grandmother, on the Jurgensen side of the family, who sent Mom a check and let her do the shopping. The three eldest kids—me, Maureen and Patty—received Bulova wristwatches. Mine had a silver, stretchy wristband and a little window on the face that showed the date. I turned the knob on the side to change it to twenty-five.
Himself was the last to open his presents and did so with exaggerated care, never tearing the paper that someone had taken the time to fold, crease, and tape shut. "You never know, someone might want to use the paper again," he said, smiling as he opened my gift, wrapped in candy cane paper.
"C'mon, Daddy, just open the present already," Maureen said, sitting next to the tree in her blue-flowered flannel nightgown.
Mom stood in the doorway to the living room, a Newport filter dangling in her left hand. Because she'd gotten up early to walk the dog, she was the only one of us who was dressed. Dad had turned to her and said, "Claire, when did your daughter become so bossy?"
We never knew what to get him for Christmas. He didn't have any hobbies or go in for fancy accessories like cufflinks. If he wasn't wearing the heavy-duty chinos he wore to work—he was a lineman for the phone company—he stuck to three colors: light blue, navy, and gray. He liked his cars in loud colors, though, and that gave me an idea. After driving around last summer in The Green Hornet, a 1956 Ford Fairlane with a snazzy chrome strip on the side that divided the car into two colors—sea green above the chrome and pine green below—and now The Black Beauty, a black-and-white Pontiac from the same era with the unlikely name Parisienne written in steel script on the front door, I wanted to see if he was willing to borrow some of that flamboyance.
After he gingerly opened and removed the wrapping, his eyes popped and he cracked up. "Mother of God, what have we here?" He removed from the white tissue paper two pairs of socks, one canary yellow, the other bright purple.
"I thought they would go with your car," I said.
"Oh, did you now?" He was still laughing. He hadn't shaved in a few days and a thick, graying stubble covered his cheeks and chin. I wondered if I was going to be that hairy when I was his age.
"Love the socks," Patty said. She was sitting on the radiator under the front porch windows, auburn hair in a ponytail. "You should wear them today."
He raised his eyebrow, sensing a plot: Maureen had already given him a pair of fuzzy dice, black with white polka dots to match the Pontiac's two colors. We found them in an automotive shop across the street from Sears.
"I'll let your mother decide if they go with what I'm wearing."
I was sure he wouldn't be caught dead in those socks at Christmas dinner, but I was wrong. He wore the purple Ban Lons, with gray flannel trousers and a white dress shirt. All new. I saw it as a sign his good mood would last the entire day.
It took us a while to leave Brooklyn, even though Himself drove like a maniac, changing lanes on Flatbush Avenue whenever a car blocked him, hanging on the steering wheel as he burned through the streets. I held the handle near the car roof. Mom held my left hand. We were afraid to look at the speedometer. Except for a newsstand at Kings Highway and a Chinese restaurant near Avenue P, everything was closed. The stores and apartment buildings disappeared after the light at Avenue U. On one side of the road was a golf course, then a marina; on the other, the shuttered hangars and abandoned runways at Floyd Bennett Field. For an old car The Black Beauty moved pretty well, approaching the tollbooth at the Marine Parkway Bridge with a steady, heaving determination.
I cracked open the window after we went through the tollbooth so I could smell the sea. The bridge rose over Jamaica Bay like a steel caterpillar, its towers and girders battleship blue; as we crested the road, the Atlantic came into view, a glittering hemisphere of sapphire glass.
I turned to my sisters. "Who wants to go to the beach with me?"
"I'm cold enough in this car, Nicky," Maureen said.
It was probably twenty-five degrees out, but I wanted ten minutes at the beach before the family tango took over, so I slipped away after Himself parked the car. There was no wind and the sky was the hard bright blue of winter, so vast it was impossible to measure. The air was still, bracing, and the only sound was the occasional plane concluding its descent into Kennedy. We had just had a storm, and snow lay in crisp piles in the gardens and by the curb. The houses were fantasy homes; some with three stories, wraparound porches and the occasional turret facing the sea. Others went with a nautical theme, like one mansion whose flagstone patio had a balustrade decorated with seahorses.
Even though it wasn't going to be dark for a few hours, everyone's outdoor Christmas lights were on, stapled to the front windows and festooned on bushes and twirled around fences, bathing the blocks leading to the beach in a Technicolor glow. Of course, Himself would never allow us to have outdoor lights; it was too gaudy, he said, too expensive. We had to settle for decorating the front porch windows with a plastic wreath that had one candle in the center and stencils of winter scenes made white with a can of spray-on snow.
I wondered if he had started. The liquor would be out. It was Christmas; everyone had drinks before dinner. It was no big deal. But with Himself, you couldn't do that.
The beach was empty, the sand packed down, the tide out. An Irish setter ran to fetch a stick of driftwood, its red coat shining, and brought it back to a trio of kids farther down the shore. It was too bad we hadn't been able to bring Queenie with us. She was probably gnawing on the doggy treats she'd gotten as part of her Christmas present. This morning, Maureen had tied a ridiculous red bow around her neck and took several photographs with Mom's camera.
The sun cast a dull glow on the ocean through a skein of clouds; another weather system was approaching. I rewrapped my new green-and-blue plaid scarf around my neck and shoved my hands deeper into the pockets of my parka. The cold was piercing now. I walked over to see the seahorses—their heads were still capped with snow—and checked the time: three p.m. Time to head back.
There was another car parked in front of Uncle Tim's house behind The Black Beauty, a white four-door compact that looked too new, too immaculate to actually belong to someone; probably a rental. In a style duel between the two cars, the Pontiac would easily win. Named after the car driven by Kato, sidekick to the Green Hornet in the radio serial, The Black Beauty was a sporty two-door tank with a white hardtop and a faded black body inset on the sides with sleek white panels that extended from the taillights to the front door. A pointed white strip trimmed in chrome bisected the black, again, from the front door to the headlights so that the sides of the car gleamed like white daggers.
My ears were tingling by the time I let myself in through the back door. I walked around a collection of little kids' rubber boots on a curled newspaper in one corner of the landing and heard a commotion upstairs, coming from the kitchen. I blew my runny nose with a handkerchief and climbed a short staircase to the main floor into a house filled with the rich aroma of well-seasoned roasting meat.
Aunt Julie said, in her throaty voice, "Did I hear someone say Georgie is here?"
I paused on the top step. Uncle George? He flew in from Germany? My father's older brother, he'd moved overseas to take a military job he wasn't allowed to talk about. I hadn't seen him in a year, when my grandparents threw him a farewell party at a Catholic War Veterans hall in Greenpoint and Himself had gotten us lost on the drive home. George's parting gift to my father was a copy of The Big Book, wrapped in brown paper. My uncle handed it to me as I got into the car, just before we drove away. Himself told me to stick it in the glove compartment.
Uncle George's suitcase, a large blue Samsonite contraption with brass buckles and reinforcements, stood in the center of the red linoleum floor of the kitchen. With its narrow entrance, the room looked like it might be small, but it opened up in unexpected ways. An L-shaped arrangement of appliances on two walls faced a large breakfast nook with built-in benches and a picture window that looked out onto the yard. That's where the Flynn kids would eat their Christmas dinner. The table was already set.
The grown-ups were standing near the stove and the sink. Uncle George draped his loden overcoat over the back of a chair and kissed Mom on the cheek and then Aunt Julie. Mom was wearing a white apron over her red wool skirt. She was mashing potatoes in a large silver pot with her usual gusto, eyeglasses pushed up on her forehead. Aunt Julie, in gray slacks and a navy wool cowl-neck sweater, was stirring gravy in a black roasting pan. Over at the counter, Uncle Tim sliced the prime rib with an electric knife. He may have been the youngest of the three Flynn brothers but he was the first to go gray, a thick crop that shone silver as he bent his head towards the overhead light.
Now that I saw we were probably ten minutes away from diving into this feast, I was starving.
"Tim, get Georgie a drink," Aunt Julie said, arranging the cut meat with a fork on a bone china platter. "I think this is enough for now." She was between pregnancies, a tall, plump woman with short straight brown hair forever on some kind of diet, the kind found in women's magazines. The rules were always taped to the side of the fridge. She'd already tried the banana diet and the blender diet, even the breakfast diet, but she always looked the same.
"I'll just have a club soda," George said.
Uncle Tim took out a bottle of White Rock seltzer out of the refrigerator, a double-door Amana upright the color of Coca Cola. All the appliances were the same color and coordinated with the wallpaper, red with a busy print of yellow and white flowers that covered every inch of wall space. I was thinking everyone's here except Himself, when he appeared in the doorway like the neighbor in a TV sitcom, except he was holding a yellow cocktail with a maraschino cherry floating on top. I could tell from the watery look in his blue eyes that it wasn't his first. "Auf wiedersehen. Where're Nancy and the girls?"
It was a whole story, as my mother would say. One of George's kids had the flu and his wife, my Aunt Nancy, stayed behind. Uncle George sipped his drink. "It seems like I got on the plane a day and a half ago. But it's so good to see everyone." He chugged the contents of his glass like it was a cold beer and caught me looking at him when he put it down. "Hey, Nicky." He stuck out his hand. He had one of those Flynn grips of death like Himself.
I wondered how long he'd been in AA and how he felt when everyone was knocking them back, oblivious to his abstention.
"Nicky, do you mind taking the suitcase up to my room?" Aunt Julie said. "Before someone trips over it."
"And then you can help your sister set the table," Mom said. "And don't forget to take off your coat."
I took care of the suitcase first, lugging it up the stairs, carpeted in the same wall-to-wall dark blue as the first floor. The master bedroom took up half the floor. Aunt Julie had a game-show bedroom set, with the matching night tables and chests of drawers. I left the suitcase at the foot of the king-sized bed and went downstairs to the dining room. Maureen was choosing forks from a brown silverware chest. She was wearing her latest homemade dress, cut from a Butterick pattern and sewn on Mom's Singer at the kitchen table: dark green velvet with a high lace collar and a thin black belt.
"Mom said I should help you." I unzipped my parka and tossed it over one of the straight-backed chairs.
"Damned decent of you to show up," Maureen said, in her Brooklyn battle-axe voice. She liked to imitate the gravel-voiced ladies who worked at Ann's Gift Shop, this junk store on Church Avenue where the sales help wore bullet bras and sleeveless Orlon shells and talked with lit cigarettes hanging out of their mouths. "How was the beach?"
"Great. I think it's going to snow later."
"Your ears are really red. Good thing you didn't get frostbite. Then we'd have to cut them off." She handed me a fistful of forks and knives from the green plush interior of the case. "I'll do the spoons." She pointed to the crystal goblets at each place setting. "Watch out for the Waterford. It's from the old country."
We started at opposite ends of the table, moving counterclockwise. The dining room was papered in a dark navy with white and yellow flowers, large and heavy as peonies. We never ate in this room in the summer, and now it seemed intimidatingly small and formal.
I had to ask. "Did you see Uncle George? Do you think he's here to check up on you-know-who?"
"Now you're crazy."
"Do I look like I'm crazy?" Now that Grandpa wasn't around to check up on him, I couldn't help think it.
Maureen was the only sister who knew about The Big Book, although I couldn't show it to her because I didn't know if it was still in the house.
"Well, he came at the right time. Daddy's on his third."
On occasions like these Maureen and I would meet and share the cocktail count. The alcoholic weather report. I was thinking maybe my aunt and uncles wouldn't be as aware of the changes in his behavior as we usually were. I kept vigil but I wasn't alone. Uncle George sat next to Himself at dinner, slyly glancing at his never empty wineglass.
He asked my father to pass the meat platter. "Hey, Pat, when I pulled up I saw this jalopy outside and I knew it had to belong to you. Where'd you find that?"
Uncle George broke into a wide grin and I laughed too. Himself defiantly, perversely preferred the nostalgic glow of an eye-shaped taillight or sharp tail fin to anything a brand-new Buick Skylark or Dodge Charger had to offer. The cars he liked were new when he was a young man, just barely out of his teens—before we came along.
"That's a 1958 Pontiac, pal," Dad said, right hand on the stem of his glass. "And not just any Pontiac. It's a Pontiac Parisienne."
Uncle George laughed, as if he was surprised that his brother could correctly pronounce a French word, but his comeback was pretty standard: "But it's 1970, Pat. What do you get, ten miles a gallon? You've got to step up, get a real car."
"I will when someone gives me a deal as good as the NYPD."
That's where he usually purchased his cars, at police precinct auctions. Never paid more than sixty dollars for one and every time out, he got what he paid for. The first car he brought home was The Green Hornet. After driving that one into the ground he found The Black Beauty.
Dinner was so delicious, I cleaned my plate: the prime rib, the mashed potatoes, the green beans almondine and always, the creamed onions. Dee Dee and Mary Ellen were in the kitchen at the kids' table. My two eldest sisters and I were a captive audience while the adults at the grownups' table told stories. While we were eating, Uncle Tim relived his youth as a lifeguard at Breezy Point, diving for fish at Rockaway Point, way down at the end of island, where the bay met the ocean. In the middle of one of his stories, Uncle George leaned over to whisper in Himself's ear. Dad nodded slowly, meaningfully, flexing his jaw like he really wanted to clock his brother in the face.
Uncle George was staying a week. He had brought gifts for everyone from Germany, and in between courses he asked me to help get them out of the car. It sounded like he had a lot of presents but when he opened the trunk, there were just two cardboard boxes covered with a lot of masking tape. He took out the larger one, handed me the other box and didn't shut the trunk.
"I wanted to talk to you for a minute."
Now that we were face-to-face, I saw I was taller than he was, about an inch. "OK. What's up?"
"So, how's everything going? We haven't seen each other in a while. Your father says you're taking French. Parlez-vous?"
I got a ninety-five on my last test, my last of the semester. "Oui, monsieur. But I'm off for the next two weeks. I don't even want to think about school."
"How's your Dad doing?"
In all matters regarding Himself, I took the fifth with outsiders. Even when I was related to them.
"I think he's doing great today."
That was one word too many. "Today. How about other days?"
My uncle didn't have Himself's laser-like blue eyes, but he could still look through you pretty good. As the eldest kid in the family and the only boy, I was expected to know and remember everything. I hated it.
The cold was rubbing against my shoulders and the box felt heavier than when I first picked it up.
I was staring at the car fender. "Not every day's the same." Especially the days he didn't come home.
"He ever go to any meetings? I talked to him about it."
Oh, Jesus. I almost said: That would mean he'd read the AA book you gave him. I was going to get my head handed to me if I said another word. "You know, you can always ask him yourself."
He raised his eyebrows and gave me a surprised smile. "Listen, I'm gonna be here a week, spend some time here, spend some with your dad. If you want to hang out, I can pick you up after school."
That actually sounded like fun. "But we have to talk about Germany, not Brooklyn."
He stuck his free hand out for me to shake. "Deal. Let's go back inside."
He gave out the presents in the living room, next to the huge Douglas fir tree. I sat with my sisters on the blue carpet, leaning against the sofa. Seeing our uncle was one surprise; getting more presents was incredible; even better—they were from a foreign country. Uncle George was stockier than the last time we saw him, though still fit. He handed the cousins—Timmy, Jane, and Erica—their gifts first: Playmobil sets, which he reminded us were unavailable in the States.
"Say thank you," said Uncle Tim, pulling the mahogany coffee table away from the sofa so we could stretch out our legs. The children, towheads all under the age of six and born a year apart, followed orders.
The presents were mostly small and wrapped in shiny blue paper; the few bigger ones were wrapped in Santa Claus paper. Uncle Tim got a beer stein from Oktoberfest, stoneware with enameled scenes of German life and a hinged pewter lid. Aunt Julie opened a box of Asbach-Uralt chocolates, shaped like bottles and filled with brandy. Aunt Julie and Mom got Hummels.
Mom sat on the couch with us to open her gift, with Maureen and Dee Dee hovering on either side. "Oh my God," she said, removing a figurine of a little boy, seated, and holding a brown umbrella that covered his entire body. "Oh, George, this is beautiful."
"Let me see, let me see," said Dee Dee, leaning on Mom's lap, her cornsilk hair escaping from its rubberband. Mom let her hold the Hummel in her hand, and she turned it over and over. "I want one too," she said.
"I've got something even better for you," said Uncle George. "Well, it's for you and your sisters, and your brother, although it might not be cool enough for him."
I laughed, and Patty elbowed me. George crouched down and reached into the cardboard box and produced two gifts identically wrapped in gold paper. "Now I'm going to open these for you because they're a little involved, but one is for the Rockaway, or maybe I should say the Flynns of Queens, and the other is for the Brooklyn Flynns." He carried the packages to the coffee table and everyone stared.
He carefully peeled back the paper, in almost as dramatic a fashion as Himself, who had vanished. I mouthed, "Where's Dad?" to Mom and she shrugged.
"What is it?" Patty said when the packages were finally unwrapped, gold paper tossed on the floor.
"I don't know," Aunt Julie said. She was standing next to the tree, which had to be seven feet tall and smelled like it was cut down yesterday.
"It's a Christmas pyramid," he said. "It's very common in German households and we got one last year and the girls just loved it. So now, we'll all have something to share on Christmas, even though we don't live near each other."
The pyramids stood about a foot tall and were made of blond wood. Each had three tiers surrounded by dark wooden fences fitted with candleholders; a small propeller, also wooden, was fixed to the top, like the star on a Christmas tree, by way of a pole in the center. I was trying to figure out how everything worked when Uncle George took a small plastic bag out of the cardboard box and placed thin red candles on the lower two tiers and lit them with a match. The heat from the flames rose and turned the propeller blades, and with them, the tiers. It was like a carousel. Now we could see the brightly painted wooden figures within. On the bottom level, Mary, clad in a blue veil, and Joseph, in a brown cloak, stood on either side of a manger with beige straw and a golden-haired baby Jesus. In the middle, the Magi in white robes carried tiny foil-wrapped gifts to the Christ child. Finally, three blond angels holding red horns in front of their faces rang out the news on the top tier.
"Look at that!" Mom said, touching her face.
We had never seen anything like it. So simple, and yet magical. It was the gift everyone would remember. And cool enough for me.
Mom turned to Maureen. "Where is your father? Pat, come look at this."
Himself wandered in from the dining room with a red-wine refill. He staggered a bit, stepping back on the carpet to adjust his footing or prevent the precious grape from spilling on the carpet. His face was flushed now, and his eyes shone like blue headlights. He stood perilously close to the coffee table. "What have we here?"
"Presents," Mom said, biting off the word. "Your brother brought them from Germany."
"Is that a fact?"
I looked up at him. He had that tone. The switch inside him had turned the wrong way and now he was going to do something, say something we would regret. I braced myself.
He was rocking back and forth on his feet, the wine running through his veins like the cars on the Cyclone, straight downhill from the summit. I thought he might fall on one of us.
"Do you want to sit down?" I asked.
Uncle George glanced uncomfortably at him while the fans were spinning, the candles flickering and the tiers turning, and then back at the kids again. "What do you think, guys?" he asked, finally standing up with a perceptible creak. He rubbed his hands on his knees. "Did anyone else hear that?"
My little cousins, the Rockaway Flynns, sat in front of the Douglas fir, rapt by the spectacle of color, motion and light.
"I think they like it," Aunt Julie said and chuckled. She touched Uncle George's arm. "They've totally forgotten about their new toys."
Dad took a sip of wine and stared down at the pyramids. He had a smart-ass grin on his face. "Do you think Hitler had one of these as a little boy?"
"Oh, shut up, you big boob," Mom said. She handed the cardboard box containing the Hummel to Patty and got off the couch. Her arm was already outstretched when she walked over to him. "Give me your glass."
Aunt Julie started for the kitchen. "I'm going to make the coffee," she said, backing away, taking her boxed Hummel with her.
Maureen followed. "I'll start the dishes."
Everyone was looking for an exit. Mom tried to grab the wineglass but Dad hugged it to his chest, where a red splotch bloomed on the new white dress shirt over the left pocket. He looked down at the wet spot, teetering over the turning tiers, and stumbled into the coffee table.
"He's going to fall on them," Mary Ellen said. "Mom!"
And so the Flynn pyramid toppled over, flames licking at Aunt Julie's coffee table. "Stand up, I got a bet on you," Himself said.
The little kids screeched and Timmy cried out. "Mom, there's a fire!"
Uncle Tim ran into the kitchen and came back with a folded Daily News. My cousins stood back, horrified, as the flames burned a black ring into the table. With several swift strokes, he beat out the fire, swatting away the smoke curling up. Uncle George quickly righted the pyramid, blowing out the candles. Aunt Julie rushed back into the living room and stared at the mess.
"For crying out loud, what the hell happened?"
"We had a slight accident but it's under control," Uncle Tim said. "You never liked this table anyway."
I appreciated him trying to make light of the moment, since no one else knew what to say. One of the fences on the bottom tier of the pyramid had snapped in half. Our pyramid was completely intact, the flames still pushing up hot air; the figurines flashing and turning.
"C'mon, Pat," George said, shaking his head. "I told you to knock it off already."
"Yes, you did," he said, smiling.
"Give me that glass before I break it over your head," Mom said, finally wresting the goblet out of his hand.
Patty leaned over the table and picked up the fallen pyramid. She smiled unconvincingly and said, "I'm going to take this in the kitchen for a minute. Anyone want to come with me?"
Three blond heads followed her out of the room. Uncle Tim joined them. "Julie, do we have any wood glue?"
She smoothed her hands on her long apron and shrugged. "Check the drawer next to the dishwasher."
"Pat, why don't you sit down already?" George said.
"Stick it in your ear," Himself said, teetering.
My uncle went over and grabbed my father by the shoulder, saying something in his ear. And that's when Himself shoved him, not once, but twice, until my uncle staggered back, eyes widening before he broke his fall.
"I said, that's enough, for God's sake," he shouted. "Why do you have to be so belligerent?"
I wasn't going to intervene, not as long as I was on Himself's good side. When he was wound up, it was best to remain invisible. But I was worried about Mom, still holding the Waterford goblet. I took it out of her hand and set it down on an end table.
"C'mon, Pat," she said gently. "Let me get that stain out of your shirt." She gestured towards the staircase.
Something about her delivery did the trick because he followed her. By the time she came down, we were eating dessert in the dining room. Our mortification was so extreme that no one could enjoy the chocolate éclairs, Napoleons or apple pie. Mom ate two bites of pie and lit a cigarette, eyes boring into the embroidered red holiday tablecloth.
"Well, I think it's time we went home," she said when Mary Ellen, the slowest eater among the five of us, finished her last forkful.
Patty went upstairs to use the bathroom. When she came down, she said Himself was sprawled out on Aunt Julie and Uncle Tim's bed in his undershirt and pants. Relieved there was a half bath off the kitchen, I vowed not to be the one going upstairs to get him when it was time to leave.
That task was left to Uncle George. We overheard them having a loud discussion about who was going to drive us home. Technically, I could drive everyone home, but I had never driven at night. I didn't know if I could do it.
While the brothers argued, everyone helped clear the table and load the dishwasher. The leftover prime rib was still out on the cutting board. Now that we had polished off half of it, it looked gross, a cold, greasy, red slab that made my stomach tighten. Aunt Julie flicked on the radio on the counter, and we heard the Ronettes' tinny voices singing "I Saw Mommy Kissing Santa Claus."
"A little Christmas music before everyone goes home," she said with forced merriment, turning up the corners of her mouth in a half-smile. I was sure she couldn't wait to see Himself on his way. Our first Christmas at the beach was bound to be our last.
Himself was in no condition to drive; that didn't stop him from getting behind the wheel. Uncle George wanted to ride home with us, but Himself said there wasn't room in the car. Then Uncle Tim offered to take some passengers and follow from behind.
"Can I ride with Uncle Tim?" Dee Dee said, holding our Christmas pyramid in front of her like a chalice. She was only ten, but she was no fool.
"I think that'll be all right." Mom looked at Patty, pulling on her plaid parka. "Would you go sit with your sister?"
Himself raised his eyebrows in deep suspicion, but he was outnumbered. "Mother of God," he muttered as we went out the door.
The sky had clouded over and snow began falling in enchanted storybook fashion on the sleighs in people's gardens and the garlands coiled around mailbox poles. The sidewalk and the roof of the Black Beauty had already whitened. It was beautiful, and I wished I could have taken the bus home, watching the snow out the window as it coated the houses in Belle Harbor and the rocks along Jamaica Bay. But I had to get into the car. Mom, Maureen, Mary Ellen in back, Himself at the wheel and me in the Death Seat again. As I belted myself in, I felt defeated, as if I had done something wrong. It was great sitting next to Himself in the car when he let me take the wheel, but now he felt like an albatross. I was stuck for the foreseeable future.
I stared down at the black threads of water below the Marine Parkway Bridge. The sky turned pinkish with snow. In the far distance, the Empire State building glowed red and green at the top.
It was a long, glum drive home, the embarrassment and near-calamity of the fire casting an ash-like pall over the car. Not only did Himself spoil our holiday, he also nearly ruined my cousins'. I didn't have a chance to ask Patty if she'd had any success gluing the pyramid's broken fence back together.
The westbound lanes of the Belt were filled with cars trying to beat the storm. We had seven, eight miles to go and we went slowly on the Flatbush Avenue extension, the engine grinding. The traffic lights looked ethereal, colored gels hanging in the air, and flakes flew at the windshield as if churned out of some machine beyond the horizon. It was hypnotic, as if our house would magically appear in front of us if we just kept staring at the snow.
Not knowing the patron saint of snowstorms, I said a quick "Hail Mary" to cover the bases. If everybody was as scared as I was, they didn't let on. We all listened to the windshield wipers as they jerked back and forth, squeaking like a faulty metronome and never quite cleaning the glass. A few cars passed on the right, and I gripped the door handle as Himself cut out of the lane and nearly collided with an oncoming car, horn blaring, headlights fierce in the snow-light.
I couldn't be a passenger anymore. I moved closer and put my left hand on the bottom of the steering wheel so we could stay to our side of the road. Himself didn't object. He knew the shape he was in.
An empty Flatbush Avenue bus rattled by in the southbound lane as we passed the Torregrossa funeral home and the Floridian diner. In general, traffic was heavier going towards Rockaway then away from it and I was grateful. The car groaned, its insides sounding like they were about to fall out. We crawled along so slowly that Uncle Tim eventually pulled up alongside and then in front of us. For some reason, I felt better even though I knew if we crashed, it would be into him.
Then we turned right onto Brooklyn Avenue. The car skidded and Himself hit the brakes. "Son of a mutt," he said. We all gasped as the car jolted and screeched.
"Jesus, Mary, and Joseph," Mom said in an infernal whisper.
We were in the Avenue J intersection, where The Black Beauty toppled a corner mailbox. We were lucky there was no oncoming traffic.
I knew from riding my bike that a police station was just down the street.
There was a sharp rap on the window. My heart jumped. It had to be a cop—a cop who would see Himself's condition and arrest him, on Christmas. He rolled it down, and I saw Uncle Tim's worried face, his gray hair like a halo around his head as the snow blew all around him. "Everybody all right?"
"Yeah," Dad said. "This car has old tires, that's all." He raised his head and looked in the rearview mirror. "Everything copacetic in the backseat?"
"Your rear end is in the middle of the street," Mom said, biting off the words. "If you don't get us out of here in two minutes, I'll get out and walk."
I had to do something and there was only one thing to be done. "Daddy, let me finish," I said. I never called him that; too needy.
He looked at me, incredulous, like the night when he called Mom from the Dew Drop and asked her to send me down there with the collie and a ten-dollar bill so he could stay out drinking, and I tried to get him to come home. "You?"
"Yeah. Look, it's not far and you're tired. You know me, I never go above twenty miles an hour."
Dad chuckled, but Uncle Tim didn't think it was a good idea. "I should be all right if I follow you," I said.
Uncle Tim leaned in. "Pat, what do you think?"
"How about somebody asking me what I think?" Mom piped up from the back seat. "Nicky, you're not old enough. The last thing I need is you getting pulled over."
"He's the only one who's driven this car besides me," Dad said. It was close to an admission of his condition as we were going to get.
"I drove from Brooklyn College to Kings Highway."
"When did you do that?" Mom was getting madder by the minute. "You told me you were giving him lessons in the cemetery."
"We branched out," Dad said. "We went to Bedford Avenue. Hardly any traffic. The Jews over there don't drive on Saturdays."
"Well, then I guess we should all kneel down and thank God for the Sabbath," she said.
"Listen, we'd better get out of here," Uncle Tim said. I nodded: We had to go while I still had the nerve to do this. Reluctantly, Dad got out of the car and car and came around to the passenger side. I adjusted the rearview mirror and waited for Uncle Tim's lead.
"Are you sure you're going to be all right?" Dad asked, the wine smell wafting off him in sick, sweet waves.
I nodded. "It's only like seven, eight blocks."
But they felt like the longest ones I ever drove. The windshield wipers were out-of-synch, and I only had the left headlight; the other was smashed. I stared ahead into the snow, which was lighter now, making it easier for me to see the taillights of Uncle Tim's car in the home stretch. Down the hill to Foster Avenue, where the Vanderveer Houses dominated the block like a prison, the road was sopping wet. A red light flared at the intersection and Dad told me to hit the brake hard because we were going to roll at the bottom. I had my foot pressed down almost all the way to stop the slide while I gripped the wheel.
"When's the last time you had these brakes checked?"
I looked over. His eyes were closed. "Stop busting my hump, Nicky. I let you drive
for Christ's sake," he said.
I was able to stop the car ten feet before the red light, but it felt like my lungs were about to go through the windshield. Uncle Tim had cleared the intersection and was waiting for me on the other side. I waited for the light to turn green and caught my breath. The silence in the car was deadly. Mom was furious, but I had proven my point: I could drive. And I was going to bring everybody home, in one piece.
Dad leaned over to me. "Don't know if The Black Beauty's gonna make it through the winter."
"Five more blocks, that's all she has to do," I said. When the car finally died, I was going to miss her. I always thought of her as my first.
With the projects behind us, the houses fell away and all I saw were the graves at Holy Cross, tombstone angels graced by the snow. Two more turns and we were on our block. Up ahead, Uncle Tim honked his approval. Mary Ellen and Maureen were clapping in the backseat. I stopped in front of the house and jumped out of the car—and almost slipped in the snowy street. I reached for the car door handle to steady myself and helped Mom out and then the girls. Mom barely looked at me.
Uncle Tim pulled up in front of Mrs. Garrett's house. Dee Dee carried the Christmas pyramid up the stoop. Maureen stood on the sidewalk, smiling, snow falling on her hair. "You did it," she said. "You never told me you could drive."
"I did too," I said. "You just didn't believe me."
I walked over to inspect the car's front end. The grille was dented in the center and the headlight was gone. Himself came over to look at it. He put one hand on my shoulder. "They should give you that license now," he said.
I smiled and caught a glimpse of Mom unlocking the front door. Queenie jumped on her and barked. "Get off me," Mom said, going inside. She was pissed. Definitely at Himself, maybe at me.
The dog bounded out down the steps, their cracks sealed into perfection by the snow, and stood near the edge of the stoop, waiting.
"She needs to be walked," I said to Maureen. "I'll do it if you get the leash."
She went inside and I overheard Himself invite Uncle Tim in for a nightcap. Was he kidding? Ever the diplomat, Uncle Tim said he had to be heading back and that God knows what it would be like crossing the bridge back to Rockaway in this weather.
Maureen threw the leash at me from the vestibule. It landed at my feet and I clipped it to Queenie's collar. Himself was backing the Black Beauty into the driveway. The snow was pouring out of the sky, backlit by streetlamps. Flakes fell all around us in a crystalline white curtain, a buffer between us and the house, keeping whatever was going to happen there at bay as long as we stayed outside. Queenie blinked as I led her down the block. I was going to take her to the trail along Holy Cross. She loved the snow.
The Provenzanos next door had turned off the Christmas lights strung along the wrought-iron fence of their garden and patio. Another holiday, dead and buried, but we made it home and I was glad it was because of me.
I heard Uncle Tim honk once as he pulled away, his car's red taillights pedestrian and tiny compared to The Black Beauty's exotic conical bulbs. There would be more occasions, some quite dire, when he would have to come to his brother's rescue again.
Because Patrick Flynn, the not-so-artful dodger, was about to fall through a trapdoor and take us with him.
Bio:
Robert Rorke has an M.F.A. from the Warren Wilson School for Writers. He received his M.A. in English at Stanford University and his B.A. at New York University. He has attended the Squaw Valley Writers' Conference and the Aspen Writers Conference. He is a TV critic and columnist at The New York Post. This story is an excerpt from a novel-in-progress. He lives in Brooklyn.