Interview by Sophie Paulette Jupillat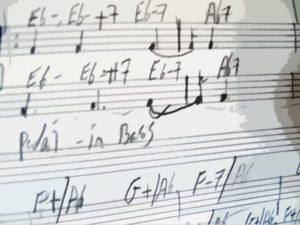 [Editor's note: This interview was conducted in French and translated into English by the interviewer.]
Nathalie Bonin is a Canadian-American violinist, acrobat, composer and music producer. Known for her magnetic stage presence, her virtuosity and versatility, she has collaborated on stage and/or in the studio with such famous musicians as Lucciano Pavarotti, Wynton Marsalis, Anne Murray, Sarah McLachlan, Gino Vannelli, Garou, Roch Voisine, and Lara Fabian. She has worked with Cirque du Soleil, and many Montreal-based orchestras and performing venues, like Cirque Éloïze, the Orchestre Métropolitain, the Opéra de Montréal, the Société de Musique Contemporaine du Québec and the Ensemble contemporain de Montréal, as well as been a member of numerous house bands for television shows and specials. She has created soundtracks for Canadian television networks TVA and Canal Vie. And as if that weren't enough, in 2007 Bonin is the first to have developed a truly acrobatic violin act. Combining her explorations in dance, martial arts, gymnastics and yoga, she redefined the arts of the circus and has wowed many audiences across the globe. Here are some links to her work:
www.kinemuse.com,   www.nathaliebonin.com,   www.soundcloud.com/nathalie-bonin-1
Jupillat: What started your journey as a violinist and composer?
Bonin: This journey took place in two steps. Violin came first, and composing came much later.
I grew up in a household listening to lots of music. My mother loved music, she played a few years of piano as a kid but had to stop to help her mother with the household as eldest of fourteen children!
My mom took me to a concert when I was four years old. We were in Montreal and it was an end-of-school performance by young violinists. She took me, and I loved the experience so much. My only regret was that I wasn't participating in the performance! Afterward, I spoke with Madame Jacqueline, the violin teacher, and I mentioned how much I wanted to play. I remember she said, "You can start in September." I was four-and-a-half by then, when I started violin. Jacqueline David was my first teacher.
Composing came gradually. I liked improvising, I liked searching for emotions. I remember one time I told my godmother that I would make her cry. And I did! This sort of thing was sporadic, though. Much later, when I studied at Queens College in New York—I was eleven to fourteen years old—I took composition classes. A teacher encouraged me to compose and explore different styles. It was a first spark. But the violin took a lot of my time. I always had lots of projects. I didn't have time to compose and play.
Years later, I was finally able to pursue both, through odd circumstances. In the 1990s, I did demos on cassette tapes for (Canadian television network) Canal D. This was all for the show Guérir Autrement, a documentary series on alternative medicine, and I had to compose themes and short transitions for violin and double bass in a fugue style. I had my first composing contract for that television documentary series.
Afterward, I did a tour in Russia with (French-Canadian singer) Garou. I had a lot of time during travels. Out of the blue, I saw online classes advertised in a Facebook group. There were band arrangement classes, which I took for three months. That's when I started taking classes in earnest; they were the first real steps in my composing career.
Jupillat: What music styles inspire you?
Bonin: Oh, there are so many musical genres that do! For me, it is the emotion above all that matters, no matter the style. If the music makes me feel an experience, if it transports me, it has worked.
I hope to open my horizons to other musical styles. There are so many out there today. There is so much to explore, like instrumental electronic music…
I am inspired by classical music, as my repertoire was classical. I've played in a lot of orchestras. I am inspired by composers such as Stravinsky and Schoenberg, and by contemporary music. Sometimes, though, contemporary music can be cold to me. I do not like purely cerebral compositions, I have never explored those. However, I just finished a course on contemporary music and discovered many new compositional ways that I can adapt to my own style!
I have immersed myself in other styles, other cultures. When I was younger, I loved Spanish music, gypsy music. Later, I enjoyed Moroccan music. I explored tango, and later I explored jazz. They are styles that express a culture, a certain emotion, but in a different way from what we're used to. For example, romantic Indian music is much different than romantic Spanish music. It is interesting to join cultures together through music.
These days, I listen more to minimalist music. I try to understand it. It's an aspect of music I haven't explored much, but it intrigues me. It's an organic sound that transforms into hybrid sounds. It's a unique form of exploration, for sure.
Jupillat: How did you develop your acrobatic violin style?
Bonin: Before I started playing violin, I took gymnastics classes. Nadia Comaneci was my first idol, my role model. I aspired to be like her. My first passion was gymnastics, before music. I was involved with gymnastics until I was nine. I'd finished all the gym classes available, and my trainer recommended me to the Quebec team. At the time, they didn't accept taller girls. I was refused on account of my height and weight. For me, it was a departing dream, a huge mourning. I continued music, but with much sorrow.
Later on in my life, it kept troubling me. I experimented with yoga, martial arts. One day I came in contact with Pierre Boileau, stage director on the musical Joe Dassin. He saw my enthusiasm and had me dance while playing violin and even getting lifted and playing on the shoulders of the dancers. Geneviève Dorion Coupal was the choreographer on the show and I learned the moves with her. That was the spark for me to go further and try to combine violin with acrobatics.
Pierre was working with Geneviève, who got me in touch with my aerial coach, Marc Gauthier, who worked with Cirque Eloize. Geneviève worked with Cirque du Soleil. After pleading and pleading, and practicing various aerial choreographies, six months later, I participated in my first performance on television, on the (Radio-Canada) show L'Heure de Gloire, hosted by René Simard. It was my first aerial-act live performance on television, in front of more than half a million viewers in 2008. Since then, I've done it all over the globe.
Jupillat: What is your creative process when composing?
Bonin: Oftentimes, I imagine a story. I think of a story, or an environment, or an emotion, but I need to feel something tangible. I need to have a clear image. Afterward, I play with that and add in elements. Sometimes I do it through the violin, or through the piano.
What comes out of the violin or the piano is different. Sometimes consciously, I compose at the piano when I want a certain feel. Same for the violin. It often takes me an hour to (find something) that sticks with an emotion. That is what takes up a lot of time. After that, it flows. I start off with an "emotion skeleton," a harmonic skeleton to start from, and then I orchestrate.
Jupillat: You have worked with many famous artists in the past, such as Pavarotti and Aznavour. Can you describe what it was like to work with some of these artists?
Bonin: Those opportunities came in similar but different circumstances. For Pavarotti, I was part of the orchestra that accompanied him. With Aznavour, I was the first violinist during a tour in Montreal and New York. Those opportunities always come from references, from word of mouth. In Europe and the U.S., many musicians go through agencies but here (in Canada), the musicians are normally called directly by the producer or band leader.
The same thing happened with Garou: I was referred by somebody.
Afterwards, during Garou's tour, in which I was working with him, the tour manager convinced (Canadian songwriter) Roch Voisine to come and see the Garou show to see if he thought I could be a good violinist on his own tour.
In the industry, it is like a form of reputation. In the music community, I am a first violinist, a contractor, I do live shows…
Jupillat: What is it like to compose vs. playing live?
Bonin: You have to be in two completely different states of mind. This process (composing to performing transition) was an adaptation for me. I had more experience as a stage musician than a composer. It's two different states of mind you have to put yourself into.
I would say that for composing, it uses up a lot of my mental resources: inspiration, creation, imagination. I have to dig into my experiences, into music that inspires me…
Versus playing on stage, there is a lot of communication, emotions of the moment. There is a lot of emotional improvising on stage sometimes; it's much more communicative to play. When you're composing, it's a solo process, an intimate one.
It's sometimes painful and jarring to compose in the morning, and then at night, perform in a concert in front of millions of people. I need to completely change my state of mind. When you perform, the reactions of the crowd can be intoxicating, people communicate with you across the stage.
But when all is said and done, transitioning from performance to composing mode and vice versa demands a form of transition; being able to do it quickly and peacefully can be hard.
A lot of musicians find it hard to perform live. But I remind myself that no one has ever died from a wrong note. I learned to surround myself with a bubble of love. When I am on stage, I love the public. When you see comments afterwards about how people were touched, how they found themselves in the music, it touches you. I prefer falling into that mentality, rather than worrying about wrong notes. It keeps me from being too stressed, too nervous. The crowds are there to relax, because they like music. As a performer, I am there to give a message, an emotion—one of joy and peace.
Jupillat: Can you describe what it is like to be a music producer and composer for television shows such as Messmer: Drôlement mystérieux? Or Ça se soigne?
Bonin: You must be in shape and very organized. It is a form of project management. The deadlines are very tight and the music is the last element. A lot of times you find yourself trying to play catch up because of time that's been wasted in another department. You need to save the team. The broadcast date doesn't change. You need to remain calm, while managing, organizing, and inspiring.
When I worked with Messmer for two seasons straight, I had weeks where I had to create twenty-five minutes of music raw without preparation. One isn't inspired every morning. It was an experience, an exercise in knowing oneself. Some days, some storylines inspire you less. Those are dreadful days. I had the impression of having a gun to my head.
For example one time, at four in the morning I was looking for a theme for the next day. Sometimes, you find an idea that had been missing all day at five in the morning. You need to learn to manage your emotions, always believe you will make it. It's like being an entrepreneur, you're managing other musicians. For me, it was learning what rhythm I possessed.
If, one day, I hadn't been able to give much of myself, then the next day, I did give much more of myself. I learned that after much dedication, after doing it over and over. It's a beautiful adventure. In some ways you're pampered, even as you're confronted with challenges. The teams know, too, that what they ask is almost impossible. It's a form of psychology, you just need to get there.
Jupillat: I have heard that you are now creating video games. What is that like? What started the idea?
Bonin: I played video games as a kid. With my kid, too, I played a little, as well. But I never had much time. My next purchase will be a (PlayStation 4). I want to understand how games function, how the media functions. I have taken a course on scoring for video games, I truly enjoyed the environment, but never actually did the music yet for a game out there.
At first, it was hard to understand certain forms of video games and why people would compose for them, like shooter (games). However, after meeting so many people whose passion was obvious, I learned to recognize that there was interesting music, even in shooters; that the music can be magnificent, even! The advantage of composing for video games is that the deadlines are much more lenient. The game evolves slowly, and the music is the last element. Very different from TV shows; there, the deadlines are sometimes impossible.
Jupillat: What advice do you give to budding composers? Is experience more important, or classes?
Bonin: Everything is complementary. It is very important to study, to have musical strength, solid understanding of the instrument, music itself, understanding harmony, different media, to analyze scores, films (for those composing for films). After that, you must experiment; that is how we learn.
I had a teacher once tell me you must make many mistakes. Sometimes I listen to music I composed years ago, and I ask myself, "Did I do this?" By sheer force of will, you can better yourself; with that attitude, you can surpass mountains. I say it's important now, but I didn't have the skills years ago that I have now. I tell myself I will die as an ignorant, I will never know everything that I want to. There is so much to learn. I give my all.