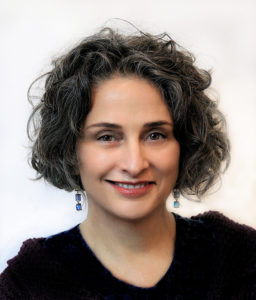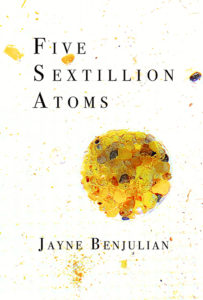 Jayne Benjulian is the author of the debut poetry collection Five Sextillion Atoms. She has always been a writer. She grew up in suburban backyards near New York City and spent summers swimming in the Atlantic Ocean. Drawn to coastlines, she also lived on the West Coast—on an island, in a cabin in the hills, and a house under the redwoods. She began writing as a young girl, leaving letters under the mattress to read years later and see who she had been. Her work appears in numerous journals, including Agni, Barrow Street, Poet Lore, Nimrod, the online performance journal HowlRound, Women's Review of Books and Poetry Daily.
Jayne's careers have been as varied and many as places she has lived: she served as chief speechwriter at Apple; investigator for the public defender in King County, Washington; and director of new play development at Magic Theatre. She was an Ossabaw Island Project Fellow; a teaching fellow at Emory University; a lecturer in the Graduate Program in Theater at San Francisco State University; and a Fulbright Teaching Fellow in Lyon, France. She holds an MFA from the Warren Wilson Program for Writers. Find out more about Jayne and her work @ www.jaynebenjulian.com.
Ahl: Themes of absence mirror the elliptical and "missing narrative" aspects of the poems in your new collection, Five Sextillion Atoms. I'm curious about this in relation to your interest in theater—where there is another relationship between what is spoken and unspoken. I tend to think of theater as a spoken art, but of course, so much can be physically embodied or acted without words. Can you talk about the unspoken in your work?
Benjulian: When I'm sitting in a theater, the worst feeling is to feel as if I'm ahead of the play—I know what the next line is or I know what's going to happen. I don't want to know. I feel the same way about poems. I don't want to know where the poem is going to take me. I want it to sweep me there as I'm writing my own work or reading someone else's. I am looking for the reader to enact her own version of the creative experience of discovery. To achieve that, I want to leave room for the reader to make connections the way the speaker, I suppose, is making connections across time and examining her own focus.
I do use gesture and dialogue quite a bit to suggest action and character. I want to break a stanza when there is more to be said, not when I've said it all. In plays, people lie, they don't answer the questions they're asked; and these discontinuous qualities are very much in evidence in my work. I find silence creates the most compelling moments in theater. Great actors—and playwrights—are not afraid of silence. They don't fill every moment with talk. Think of the difference between some of the great bad shows on network TV, where everyone is always talking, even delivering monologues; there isn't much silence. Some of the prime time shows (I'll admit I watch) are like parodies of theater: one monologue after another. There are few moments of silence, and where there is action there is always talk.
Whereas some of the best moments in theater are silent moments. Beckett, of course, is the dramatist of silence, of waiting. Have you read or seen Doug Wright's play I Am My Own Wife? A single actor is playing all of the characters, men and women, and he/she transforms before our eyes. One unforgettable, silent moment is when Doug becomes Charlotte: "She fingers her pearls." There is space around that gesture. That's what I'm trying to do.
Ahl: It's interesting to think about what is happening in silent moments. Especially in written work, where the medium is words. So then, silence is relayed via gesture, space on the page, still imagery … Silence is almost like sleep. We know it's really important but we don't know exactly what is happening. Silence is quite different than absence, but absence implies silence. It also makes me think about this thing we call language. People seem quite vested in thinking that our language is better than, more sophisticated than, any other animals'. But other animals have silence. They also have gesture, looks, other sounds. My dog will look at me, look at his empty water bowl, then look back at me. He doesn't even have to move, and I know what he wants.
Benjulian: Dogs! My German shepherd has taught me even the intention to speak or move is detectable. There is a breath, or a change in biochemistry—something that implies intention but is not words.
Ahl: Wasn't it Pirandello who talked about "the silence that precedes expression?" As though an audience too, can feel intention? Very interesting. You've also got me thinking about the differences between theater and film. When I was young, I imprinted on the French New Wave, American Independent Cinema, the strange, slow, sometimes spontaneously acted films. One thing that is easily and completely established with film is location. The location can be rich and alive and "real" in a way that a static stage usually is not. Also, in film the camera represents the point of view, often, and that shifts. Theater tends to have limitations around the possibilities of point of view, I would think, though I know that spotlights, monologues, set design, etc. can point to one particular character. How would you talk about point of view in this collection, not just literally but as in: perception, or the perspective from which we view something?
Benjulian: Most of these poems take place in a specific, imagined location created with very few words. In that they are similar to theater and not film—even in naturalistic theater, where there is "furniture," space is always a suggestion—the space suggested by a dining room table and chairs or the suggestion of a world beyond the stage—the world of the play, if you will. What is beyond that window on the upstage wall? In a good play, we think we know: streetlights, New Orleans. We can ask a similar question about poetry: what is the world outside the poem? I like to suggest these kinds of worlds with a bench, a tree, a gate, a farmhouse.
Film, of course, does not have to suggest place: it can make location happen and immerse us in it. But one thing that poetry and film do share is plasticity of focus. Like film, poetry has complete latitude in breadth and depth of focus. We can zoom into an instant and the tiniest space, say "five sextillion atoms," for example. Theater has a mid-range focus. We shrink that distance by re-creating and re-assembling space into the round or bleachers next to the stage. We can ask audience members to sit on the stage. But the stage remains in the medium distance: close but not closer or farther than the human eye can see.
Ahl: I love that discussion of suggestion, and love how that also connects to silence. New Orleans is implied outside the window. But we all see that differently in our minds. So, that which is not said, that which is implied from what is on the page, we also each experience differently, but we still experience it.
Benjulian: You asked about perception. The first few years I worked on these poems, I assumed I was channeling a child's point of view; however, I became aware of layers of perception. I discovered that the perceiver is not a child after all, but an adult re-creating the experience of a child. "Lexington Avenue Line" is an example of a series of moments that seem as if they are narrated from a child's perspective informed by a longer view, one that suggests the consequences of the events narrated. The same is true of "Clean." The voice sounds like a child's, but a child could not possibly have the knowledge of adults it has. The poems grapple with memory, and they consider the impossibility of seeing forward. I began writing more consciously with multiple perspectives after reading the poems of Larry Levis.
Ahl: I love Larry Levis. He's interesting for me less because of external multiple perspectives but more because of the vast and fluid range of his internal and shifting emotional perspectives. He's deep inside his own process. Which brings me to something else you wrote. In your blog on mentors (in AGNI, titled "On Accepting—and Leaving—Mentors") that "hearing my own mind is a task far more difficult than hearing others." Miles Davis famously said, "It takes a long time to sound like yourself." The blog has some essential points, one other quote, "The longer you write, the more you fortify your own ear, and the more eccentric your voice becomes." In other words, if you are really inside yourself, BEING yourself, the work should become more unique, rather than like other work. I consider this to be an important point in this particular climate. I have always found it odd that so many poets sound like each other. They do similar techniques, they learn from each other, which is great—but they also sometimes pursue sameness rather than their difference. I'm wondering if I could push you to go into even greater detail on how to really step into oneself?
Benjulian: Yes, everyone's writing with spaces in-between words instead of punctuation, or everyone's using no punctuation. How many poems do you read in which you are not supposed to understand (or you don't understand) how images and fragments belong together? All may be important linguistic elements to explore, but trends nonetheless. I'm still figuring out how to learn from language trends and exploit my unique strengths. One of the efforts I make now is to separate reading journals from reading the work of poets I honor because their work is spectacular. In other words, poetry biz versus artistic education. And by the way, there is some crossover. I thought the last issue of the Kenyon Review (June 2016) had some poets whose work I admire, and I re-read several of their poems to see what I could learn.
For the most part, I inform myself about what's going on in the world of poetry by reading journals and going to readings. When it comes to studying and thinking deeply about how to elevate my work, I read books by poets I admire. I read fiction and look at paintings. And then, I go back to my work and try not to repeat myself. Right now, I am beginning to think about how to make a leap in the work I do next. Whoever the poet was who wrote the poems in Five Sextillion Atoms, she is now more evolved—and that to me has meant assessing what I've learned by writing this collection, what I would like to do that I haven't yet done. What if I could pull back and use a long shot? (to use a cinematic phrase). What if I could manage perception, as you call it, more deftly? The process of becoming oneself is a life's work.
Ahl: I'm thinking about Jung's "The Undiscovered Self" and how one comes to know oneself and act on that knowledge. "Stepping into oneself" is possibly an internal act. But recreating oneself, an external act. You talk about this obliquely in Five Sextillion Atoms. Here, we feel the absence of the mother, the early loss, and the idea that the "I" narrator needs to somehow reconstruct the self. But you also talk about this in other writings in a pragmatic way—what does it take to make a career change in mid-life? How does one re-create oneself as a child, as an adult? Can you discuss "re-creation" of the self?
Benjulian: I look back at some of the things I've done and gasp. Obviously, I had a high tolerance for risk. What made the leaps possible, inevitable, was a high level of discomfort with not acting on what I most valued, creating art out of my own experience.
Most crucial is this fact: I was willing to be a beginner over and over. I am good at beginning. I could walk into someone's office and say, I can do this. You will want to hire me when you see what I can do. I have talked myself into an amazing number of jobs. But I always surpassed the expectations I had set with others because I threw myself into whatever it was—writing commercials, speeches, producing, selecting new plays, studying how actors learn, practicing dramaturgy. Poetry is different. I have had many opportunities to distract myself with other endeavors, but I have made them all secondary. I am willing to fail.
Ahl: You mention you've been thinking about poetry as painting. I recently came across this quote by Joan Didion that I've been musing on: "In nonfiction the notes give you the piece. Writing nonfiction is more like sculpture, a matter of shaping the research into the finished thing. Novels are like paintings, specifically watercolors. Every stroke you put down you have to go with. Of course you can rewrite, but the original strokes are still there in the texture of the thing." I actually make a lot of art, and one thing I love about it is that it doesn't involve words. It's immediately present with its motion of mood and color, design and contrast. Anything with words has a slower disclosure. How were you thinking about poetry and painting?
Benjulian: Recently, the fiction writer Tracy Winn and I were looking at a bouquet of flowers painted by a friend of hers and talking about how important visual art is in deepening our experience of the imagination. I am more likely to return from a visit to my friend Suzanne's studio and write a poem than I am to come home from a reading and write one. I am hungry for other visions of the world. I want to see through other eyes, see things I cannot see. Tracy said that it takes her friend far less time to paint than for us to write. Some poems take years (albeit not years of steady work but years nonetheless) until they snap into a final form. Why is that? I think the physical act of putting paint on canvas has a more direct relationship to the brain than transforming thought and feeling into words. The real yet not real, re-envisioned landscape of a painting pulls me into a mystery: what does the artist see? Portraits thrill me—I imagine the model as she saw herself versus what the painter saw and painted. The eye of the artist thrills me.
Lexington Avenue Line
We are sneaking you in, my sister tells me.
I am supposed to feel special,
but the occasion mystifies.
In the room, edges,
blankets, sheets,
underneath, curve of Mother's body.
 
She is ninety pounds,
my father whispers behind me
at her hospital bed,
a train and subway ride away from home.
We descend, outside,
descend again,
I am under earth, I hesitate, doors slam,
two steel monoliths that could crush me.
He doesn't tell me to say goodbye,
so when he is ingesting more morphine
than food, I say, Will you dream of me?
Yes, he smiles. But Mother
is silent, he is silent.
Before is fuzzy. After is fuzzy.
Doors are sharp.

Clean
What was the word I can't remember,
what words did I know at nine?
Plenty with a father like mine. His sister
cornered me. Was it the stone
room, it had a porch door
a stranger could come in, was Mother
alive I can't remember who slept
upstairs, I turned the knob to the attic
door, it was cold, it was hot, I looked
through the box, smelled her cashmere clothes,
bra with a plastic straw attached,
blew air in the cup, slipped into the straps—
was it a curse word or a bad thought? Don't say.
"Lexington Avenue Line" was first published in Spillway and Poetry Daily.
"Clean" was first published in Cider Press Review.